The Personal Journal of Alexandra Moreau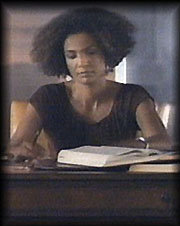 ---
My Legacy journal is what I want the Ruling House to see, what I want others to know of my time in the Legacy. This journal is my personal, private journal. No one knows about it, hopefully no one will ever know, not even the members of my own House, and I trust them with my life. For even as much as I trust them with my life, I cannot trust them with the information in this journal. This information is too personal, too private, for anyone to know about.
---
What You'll Find in Alex's Journal
All stories written by A. Magiluna Stormwriter unless otherwise specified

Astral Advice This series chronicles Poltergeist: the Legacy via entries in the private diary of Alex Moreau, including her relationship with a fellow Legacy member. NOTE: This series most resembles episode additions, and will be competed out of order as the author is able to watch each episode. Ratings will vary, and will be listed next to each entry.

Overheard Rachel overhears something she shouldn't have. [D, N, P] R for language.

Starting Over This series takes place after the end of the series, and shows how the members of the San Francisco House have moved on with their lives in the aftermath.
More stories to come as they're written....